MTH Pumps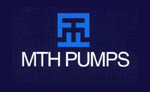 MTH Pumps is a commercial and industrial pump manufacturer serving a wide variety of markets and industries including boiler feed, condensate return, chillers/ temperature controllers, water services, refrigeration, petroleum, as well as many chemical process applications.
The standard MTH product lines include mechanically sealed regenerative turbines for low flow, high pressure, applications (1000PSI & 150GPM) as well as a line of small centrifugals (60PSI & 100GPM).
MTH custom engineered products are seal-less canned versions of the turbine product lines as well as a large line of seal-less canned centrifugals in ranges up to 300PSI and 8000GPM. MTH has extensive experience custom designing pumps for specific OEM needs where high reliability and cost reduction are a primary concern.
Standard Products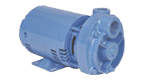 The standard product line of mainly regenerative turbines covers capacities from 1 to 150 gallons per minute and pressures up to 1000psi. We also manufacture a line of small centrifugals in ranges up to 60psi and 100GPM.
Pumps are available in all iron, all bronze, bronze fitted, bronze ring, and 316 stainless steel.
Custom Engineered Products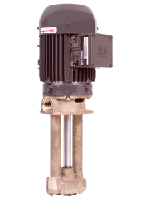 Seal-less
immersible
regenerative
turbine pump
MTH begins the custom engineering process by researching your needs and application requirements.
With basic design specifications in mind, MTH enters a rapid design / prototyping / testing cycle where newly designed or modified standard product can be evaluated for performance, reliability, and cost of manufacturing. The result is a custom engineered product that specifically addresses your application needs while often reducing the cost of the overall product.
Canned Seal-Less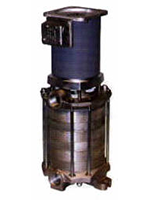 Canned seal-less
regenerative turbine
pump
Design Features
Self adjusting impeller
300# ASA working pressure
Volatile fluid handling, vapors up to 80% by volume
End suction/top discharge, compact OEM solutions
Non-cavitating if fluid begins to vaporize
Low NPSH requirements
Zero leakage seal-less design
Stainless steel construction
Variable frequency controller optional
Reverse circulation port for pumping volatile fluids
Capacities to 40 gpm
Heads to 2300 ft
Temperatures to 302 deg F
Refrigeration & Absorption
Seal-less centrifugal pumps
Capacities to 80 gpm
Heads to 250 ft
Bearing wear indicators monitor running clearance & bearing condition