GRI Pumps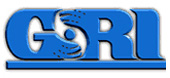 Gorman-Rupp Industries (GRI) is a manufacturer of high quality pumps for the Original Equipment Market.
The reputation and success of GRI has been built on innovative designs, customer service and providing products to meet the exact specifications of our customers. GRI focuses on meeting the needs of a single customer rather than the broad general requirements of a market. Most of GRI products were originally designed for one specific customer then expanded to meet the needs of similar applications.
The goal at GRI is to meet your special needs, whether it be modifying a current product or designing a new pump to increase the quality and reliability of your products.
Bellows Metering Pumps

Bellows metering pumps operate on a positive displacement principle. Pumps are designed to displace both corrosive and non-corrosive fluids. Accurate to ± 0.5% from stroke to stroke, when pump is set 50% to 100% of full stroke. Discharge pressure is maintained over the entire flow range of the pump. Poppet valves are utilized to prevent backflow; and springs are available to provide a positive shutoff, preventing siphoning through the pump in applications where a positive suction head exists.

There are three factors that determine the flow rate from a bellows pump. The bellows size affects the maximum amount of fluid dispensed per stroke of the pump. A second factor is the rotational speed of the motor. Speeding up the motor creates greater strokes in a given time period; therefore, increasing flow rates. Finally, the flow rate of all bellows pumps can be adjusted by modifying the length of the discharge stroke.


Single Bellows, Two Tandem, Three Tandem, Single Stroke, Heavy-Duty, Dial-A-Flow®, Mini Bellows, Compact Bellows, Dual Side-by-Side
Piston Diaphragm Pumps for Viscous Fluids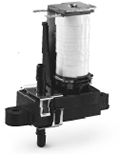 Piston diaphragm pumps are positive displacement pumps designed to economically transfer small volumes of fluid at low discharge pressures. The lightweight, compact pumps are self-priming, corrosion resistant and can handle viscous fluids. These features make the pumps ideal for high volume copy machines, scientific and laboratory instruments and other chemical dispensing applications.
The energized solenoid pulls the piston and diaphragm up, drawing fluid into the pump. A spring forces the piston back to its original position when the solenoid is de-energized, forcing fluid of the pump, and the cycle is repeated. Valves are utilized to prevent backflow and to maintain prime. A diaphragm prevents leaking into the pump. Standard models are constructed with 24-volt DC solenoids. A switch is required to supply pulse voltage to the pump.
Gear Pumps for Metering and Transfer Applications

2000 series
The gear pumps are designed primarily for metering and transfer applications. Their modular design allows a wide variation of flow ranges with a standard parts set. These pumps provide a broad class of industrial pumps in flow ranges of 10 ml. per minute to 1 gal. per minute. All of the gear pumps are self-priming and are "constant flow" pumps when RPM and differential pressure are constant. The materials of construction for bodies,
gears and seals, provide a wide range of fluid compatibility.

3000 series
The external gear pump is designed to pump viscous and watery type fluids. The driven gear is either attached to the motor directly through a gearbox or magnetically. The driven gear, within a tight tolerance body, rotates an idler gear to complete the pumping process. The fluid passes around the outside of the gears, not between the driven and idler gear teeth. In the direct drive and gearbox drive pumps, a carbon face/ceramic seal is used to contain fluids. In the magnetic drive pump, the driven magnet is located inside the pump. There are no physical connections required which eliminates the need for a seal. The gear pump design enables the pump to operate in both directions. Installing different size gears can change the flow.
Mag-Drive Pumps Eliminate the Need for a Shaft Seal

16650 series
Operation is similar to standard centrifugal pumps, except the impeller is driven with a magnetic coupling, eliminating the need for a shaft seal. Magnetic drive pumps must be used where flooded suction exists. Typical applications include film processors; laser and x-ray cooling systems; medical, scientific and laboratory equipment and silver recovery equipment.
Oscillating Pumps Are Self-Priming With No Dynamic Seals

Oscillating pumps are self-priming, corrosion resistant, have no dynamic seals and are constructed from FDA accepted materials. Typical applications include film and microfilm processors; litho and graphic arts plate processors; detergent dispensing, chemical mixing, medical, scientific and laboratory equipment. These pumps are intended for replenishing, transfer and circulating installations.

These pumps operate by an elastomeric impeller which extends through a spring and armature and into an electric coil. A diode in the circuit feeds DC impulses to the coil 50 or 60 times per second. Each pulse draws the armature and impeller forward against the spring, pumping liquid through the outlet. The spring returns the armature and impeller to their original position, drawing liquid through the inlet. A valve and a discharge poppet in the impeller prevent backflow of liquid.
Centrifugal Pumps for Corrosive and Non-Corrosive Fluids

5600 series
Centrifugal pumps are designed to transfer both corrosive and non-corrosive fluids at maximum hydraulic efficiencies. Centrifugal pumps are not self-priming and must be used in applications where flooded suction exists. These pumps can not be run dry. Typical applications include commercial and residential heating and cooling systems, commercial coffee urns, ice makers, dish and glassware washers, laundry appliances, plating systems, agricultural sprayers and industrial floor scrubbers.

149 Series
The expected life of a centrifugal pumpt varies greatly with the type of motor, type of seal and application conditions. Seal kits, motor kits, and DC motor brush kits are available as repair parts.
These pumps do not pump air and are therefore not self priming. Once primed, centrifugal pumps can lift fluid through the suction line provided there is enough suction head available in the application.
Peristaltic Pumps are Virtually Maintenance Free

Because there are few moving parts and no valves or seals, peristaltic pumps are virtually maintenance free. No tools or disassembly is required to replace the tubing. Peristaltic pumps are ideal for slurries, abrasive, viscous and corrosive liquids because only the tubing is in contact with the solution.
Applications include a variety of chemical dispensing systems.